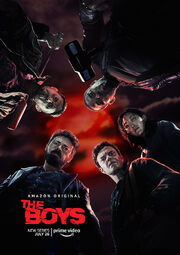 The first season of The Boys was produced by Amazon Studios and began airing on July 26, 2019. It is a TV adaptation of the popular comic series by the same name.
Season Summary
Edit
Season One
Episode
Summary
Airdate
#
The Name of the Game

When a Supe kills the love of his life, A/V salesman Hughie Campbell teams up with Billy Butcher, a vigilante hell-bent on punishing corrupt Supes — and Hughie's life will never be the same again.

July 26, 2019
1X01
Cherry
The Boys get themselves a Superhero, Starlight gets payback, Homelander gets naughty, and a Senator gets naughtier.
July 26, 2019
1X02
Get Some
It's the race of the century. A-Train versus Shockwave, vying for the title of World's Fastest Man. Meanwhile, the Boys are reunited and it feels so good.
July 26, 2019
1X03
The Female of the Species
On a very special episode of The Boys… an hour of guts, gutterballs, airplane hijackings, madness, ghosts, and one very intriguing Female. Oh, and lots of heart -- both in the sentimental sense, and in the gory literal sense.
July 26, 2019
1X04
Good for the Soul
The Boys head to the "Believe" Expo to follow a promising lead in their ongoing war against the Supes. There might -- MIGHT -- be a homicidal infant, but you'll have to see for yourself.
July 26, 2019
1X05
The Innocents
SUPER IN AMERICA (2019). Vought Studios. Genre: Reality. Starring: Homelander, Queen Maeve, Black Noir, The Deep, A-Train, Starlight, Tara Reid, Billy Zane.
July 26, 2019
1X06
The Self-Preservation Society
Never trust a washed-up Supe -- the Boys learn this lesson the hard way. Meanwhile, Homelander digs into his past, Starlight discovers that love hurts, and if you're ever in Sandusky, Ohio and a girl asks if she can touch your gills, say NO.
July 26, 2019
1X07
You Found Me
Season Finale Time! Questions answered! Secrets revealed! Conflicts… conflicted! Characters exploded! And so much more!
July 26, 2019
1X08
Main cast
Edit
Recurring cast
Edit
Amazon Studios released the first season on Prime Video a day earlier than expected — the release was initially planned for July 26, however, was released on the 25th[1]
References
Edit
Community content is available under
CC-BY-SA
unless otherwise noted.